Acoustic Dhaak AU VST plugins
Acoustic Dhaak AU VST plugins
For the first time ever Dhaak is available in VST and AU plugins format.
Acoustic Dhaak is a sample based Indian Puja (worship) and Durga Puja Dhaak instrument.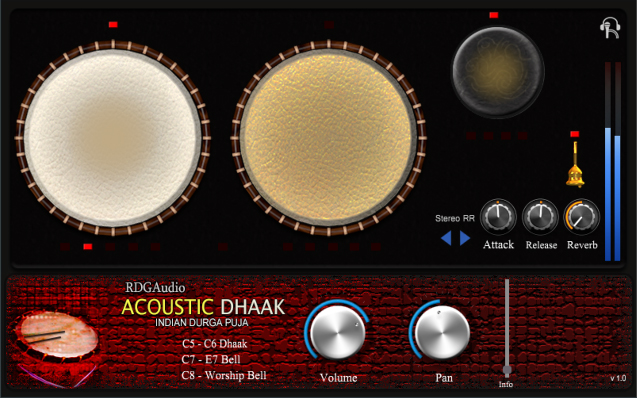 Acoustic Dhaak
Acoustic Dhaak AU VST plugins is a sample based instrument. For the first time ever Indian/ bollywood puja dhaak will be available as AU,Mac and Win 32-64bit VST plugins. Acoustic Dhaak by RDGAudio specially built for Indian Durga Puja (worship of lord Durga).
What is Dhaak ?
Dhaak is an Indian leather instrument. Dhaak is famous for Indian Durga Puja and it is mainly played in eastern part of india (West Bengal).
Who plays Dhaak is called Dhaaki.We have sampled that instrument in our Studio. It was performed by Swapan Mahato who is a Dhaaki of Kolkata West Bengal. Additionally we have added Ghanta (Bell) and Puja Aarati Ghanta (Worship Bell)
for the extra realism. So,when you will play the instrument by a MIDI controller
you will get the Indian Puja feelings right inside your host DAW.
Acoustic Dhaak AU VST plugins
Features :
Deep Sampled Indian Leather Dhaak
Round Robin Sampling : YES
RR,Stereo and Mono Mode
Velocity Sensitive : YES
Attack,Release knob
Built in algorithmic Reverb.
Deep Sampled Kaasnsor Ghanta (Bell)
Deep Sampled Aarati Ghanta (Worship Bell)
Volume and Pan Knob
Level Meter
Info Knob Slider
Modern GUI
PURCHASE THE FULL VERSION
Get the Win 32-64, AU & Mac VST plugins
Try the Lite Version. It's FREE !!
After downloading the FREE Lite version, if you wish you can donate some money. Your little donation will  help our audio engineers and programmers to make more FREE plugins for you.
Limitations
No Round Robin sampling
No Stereo mode, only Mono Mode
Ghanta (Bell) and Aarati Ghanta (Worship bell) will not work in Lite version.
To avaoid the limitations purchase the full version.