Know us

Know us
Our Beginning....
 Refined Digital Group "RDG" is a Brand and Audio is just a section of it. Here at RDGAudio, you will be getting amazing stuff related to Audio Electronics,Music production,Sound Designing and Software Vst Plugins. We started off last year and presently we are looking forward to provide musical knowledge and teaching that will take your music production experience to a whole new level. RDGAudio is the ingredient for your Music.
   OVERVIEW
   We are a group of Audio & Electronics Engineer,Sound Designers,Music producers and Arrangers. We love to play music, and also, we produce our own.
We teach people computer music. RDGAudio.com is the first website on the market where we provide 100% FREE!! Music production and Sound designing tutorials/courses with out snatching a single penny (Rupee) from you.We also teach people to make own Vst Software plugins.Our goal is to share our musical knowledge and experience with you. It helps you to make better Music in less time. We believe education should be Free!! and open to all. We never ask you to Sign up for a News letter or for a course.
We have started Audio Electronics along with Audio Mixing and Mastering service through out the world.We create Vst Software Plugins for clients. We design Audio Amplifier PCB circuit for our Foreign clients. In India we make Guitar Amplifier,Analogue Amplifier,Home Stereo System Sub Woofer and Studio Monitors.
   WHAT WE OFFER
Acoustic & Electronic Music Production

Sound Sampling & Sound Design

Vst Plugins & NI Kontakt Instruments

Audio Electronics PCB Circuit Design

Audio Analogue Amplifier,Home Stereo Amplifier Design

Studio Monitors and Home Theater System Design

Guitar Amplifier Design

Music Video Making

Short Films,TV, Advertisement scoring and Filming

Voice over and Foley for Movie/Tv/Short Film

Music Training in Digital Audio Workstation

Audio Software for Windows
 

Technical Perspective of RDGAudio
     RDGAudio is the Platform for Music Directors, DJs, Sound Designers & Artist/Bands. We are well equipped in building:-
Professional Audio Mixing and Mastering
Music Videos and Advertisements
BG scores for Movies,TV,Short films
Digital Sound Samples(DSS)
Audio Hardware Amplifier (Guitar,Stereo,Sub Woofer Amplifier)
Native Instruments: Kontakt Libraries
Sound design and vst Software presets for Software Synthesizers vst Plugins
Vst  Plugins Effects.
Tutorials and more videos @RDGAudio's Youtube Channel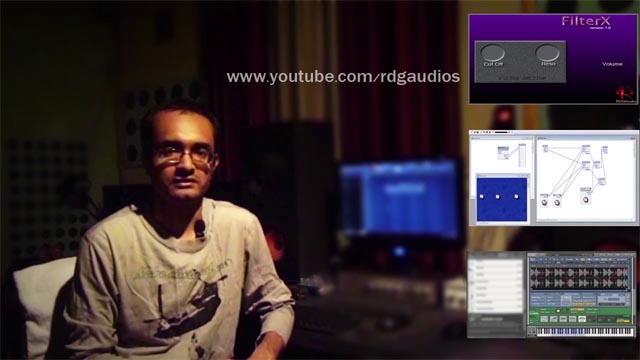 Know Our Founder
We also prepare Bollywood (Indian Film) Remixes and Mashups along with local DJings and tutorials.
   We mostly focus on producing Computer based Electronic music of various genres:
Trance Music

Indian & Western Classical Music

House Mixes

Electronic Dance Music

Trap and

Chill-out Music