Sale!
Real Harmonium
RDGAudio's Real Harmonium is a groundbreaking software plugin, available as an AU and VST3 for Mac and PC users. Unlike conventional sample libraries, it employs physically modeled technology to replicate the intricacies of 16 harmonium types from India and beyond. This innovation ensures authenticity and responsiveness. Notably, it loads swiftly, demands minimal CPU and RAM resources, and features built-in DSP effects. With 50 factory presets, beginners and professionals alike can find instant inspiration. Additionally, a scale/chord guide aids beginners, and a "lock" feature prevents wrong notes, during performances. RDGAudio Real Harmonium redefines virtual harmonium experiences for music creators.
Description
Introducing RDGAudio Real Harmonium: A Modern Take on a Traditional Instrument
In the world of music production, innovation knows no bounds. The emergence of software-based instruments has led to exciting developments in the creation of virtual musical tools. RDGAudio, a prominent name in the industry, has recently introduced an innovative software plugin known as "RDGAudio Real Harmonium." This plugin, available as an Audio Unit (AU) and VST3, is tailored for both Mac and PC users, offering a unique experience for musicians, producers, and enthusiasts alike.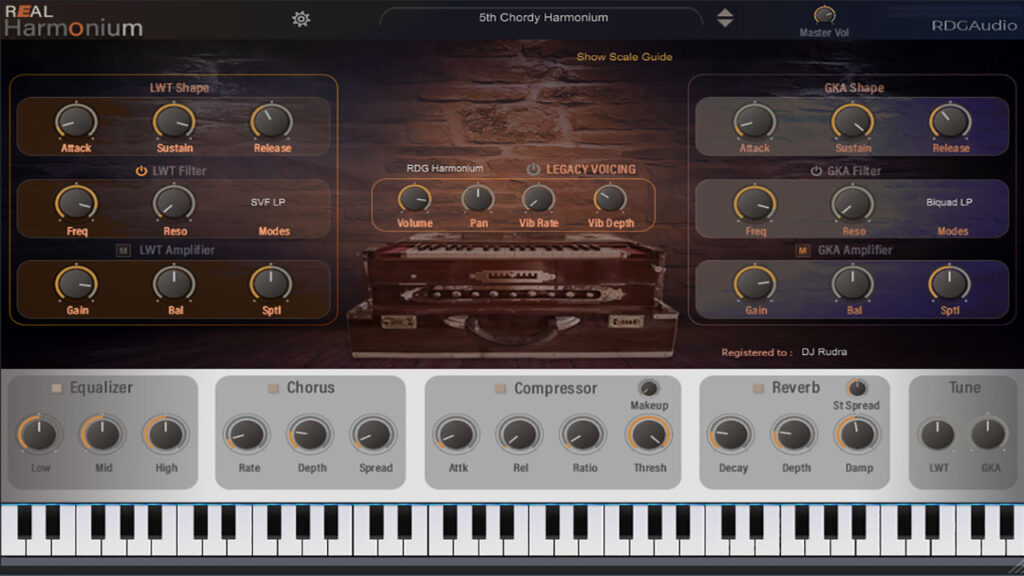 A Harmonium Like Never Before
RDGAudio Real Harmonium stands out from the crowd due to its cutting-edge approach to sound generation. Instead of relying on traditional sampling methods, this virtual instrument employs physically modeled technology to replicate the harmonium's intricate tonal qualities. This groundbreaking approach ensures that the instrument is not just another run-of-the-mill sample library but a dynamic, responsive, and authentic harmonium experiences.
Diverse Harmonium Sounds at Your Fingertips
One of the most remarkable features of RDGAudio Real Harmonium is its vast collection of harmonium types. It boasts an impressive selection of 16 harmoniums, each inspired by different styles from India and various other countries. With these diverse options, musicians can explore a rich palette of sounds, from the resonant and soulful to the bright and lively, making it a versatile tool for various musical genres and styles.
Efficiency Meets Creativity
RDGAudio's Real Harmonium excels in efficiency. Thanks to its physically modeled technology, it loads rapidly and places minimal demands on your computer's CPU and RAM resources. This makes it an ideal choice for musicians and producers who want to maintain a smooth workflow without the hassle of resource-intensive plugins.
Enhance Your Sound with DSP Effects
To further enhance your musical creations, Real Harmonium comes equipped with a range of digital signal processing (DSP) effects. Whether you're looking to add reverb, delay, or other sonic manipulations, the built-in effects give you the freedom to shape and refine your harmonium sounds to perfection.

Inspiration with Factory Presets
For those who seek immediate inspiration, RDGAudio Real Harmonium includes a library of 50 meticulously crafted factory presets designed by RDGAudio's sound engineers. These presets provide a starting point for your creative journey and showcase the instrument's full potential.
Guidance for All Levels
RDGAudio has gone the extra mile to ensure that Real Harmonium is accessible to musicians of all skill levels. The plugin features a scale and chord guide, making it a valuable learning tool for beginners and those without a strong keyboard background. With this feature, users can confidently play chords and scales correctly.
Performance Perfection
Mistakes during live performances can be a source of anxiety for many musicians. RDGAudio has addressed this concern by including a "lock" feature in Real Harmonium. This feature prevents you from playing incorrect notes during a performance, providing peace of mind and allowing you to focus on delivering a flawless live show.
In conclusion, RDGAudio Real Harmonium is a game-changer in the world of virtual instruments. With its physically modeled technology, vast harmonium collection, efficiency, DSP effects, and educational features, it caters to a wide range of musicians and producers. Whether you're a seasoned professional or a beginner, RDGAudio Real Harmonium promises an authentic and inspiring harmonium experience, bringing traditional sound into the digital age. It's a must-have tool for any music producer or composer looking to infuse their work with the rich, emotive sounds of the harmonium.
FEATURES
Physically Modelled Real Acoustic Scale Changer Harmonium
16 Indian and other Harmoniums in One Plugin
3 Sound Engines (Stack or solo)
Loads fast, Low CPU and RAM
Multi DSP Effects (EQ, Chorus, Compressor, Reverb)
Over 50 Factory Presets
Scale/Chord Guide
Legacy Voicing Option
Resizable interface
TECHNICAL SPECS
Recommended Graphics Card 1 or 2 GB
RAM 4 GB (8 GB recommended)
Intel CPU (Mac and PC)
VST3, AU Format Supported DAW (Not direct Pro Tools)
Use DDMF Meta Plugin wrapper for Protools compatibility
Windows 8,10 and above (windows 11  64bit)
Tested on Mojave, Catalina, BigSur OSX
VIDEOS
Installation
WINDOWS
Extract & Run the Setup
Authorize via given Serial no ,followed by your name.
Please make sure your VST3 location of your DAW is set to..
C:Program FilesCommon FilesVST3
———————————————————————-
MAC
Extract the archive and put the Harmonium.component file manually to ~/Library/Audio/Plug-Ins/Components
Open Logic Pro or AU supported DAW (e.g. Ableton Live)
Launch the Plugin, it will ask to authorize the plugin. use the given serial number followed by your name to complete the authorization process.
It will be activated with no sound. Fine, now close and do the Next step.
INSTALL LIBRARY
Copy and Paste all .rda1 files from Library Folder to this location.
Users/<UserName>/Music/RDGAudio/Harmonium/Samples
Relaunch DAW and Run the Plugins
Troubleshoot
For Windows
Please make sure DAW's VST3 directory is set to C:\Program Files\Common Files\VST3
For Mac OSX
If your DAW doesn't load the plugin.
Disable Gatekeeper With Terminal
Launch Terminal from Applications > Utilities.

Enter the following command: sudo spctl –master-disable.

Hit Enter and type your admin password.

Hit Enter again

Restart