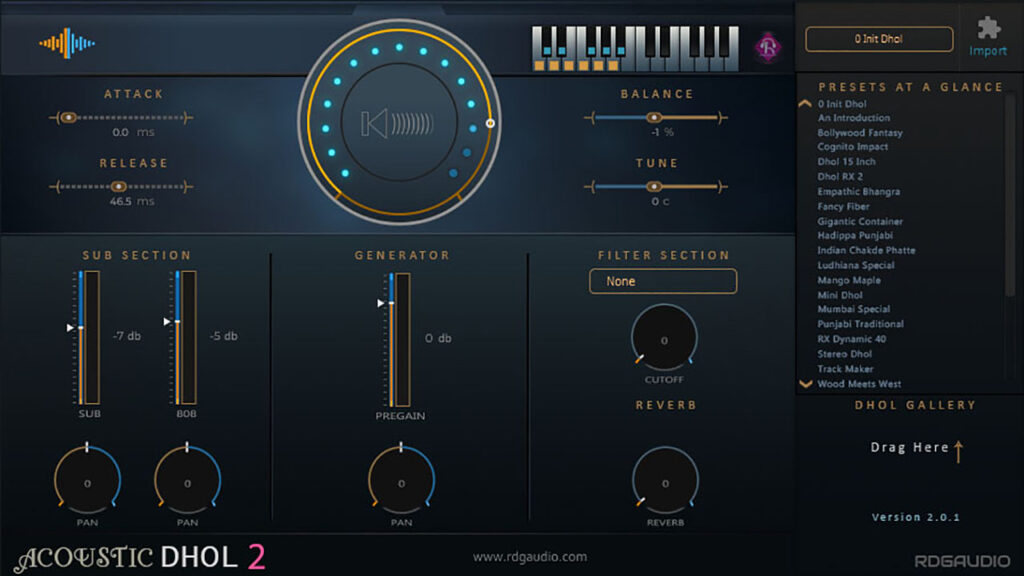 Acoustic Dhol 2 is the new Sample based Acoustic Indian Dhol Instrument. It has been sampled from real Indian Metal, Wood and Fiber DHOL Instruments. Sampled with condenser mic with various Positions. It is velocity sensitive instrument with built in Round Robin AI triggered Samples. It comes with Win 64 bit VST3,AU and Mac VST3 plugins. Acoustic Dhol 2 comes with FREE Player, however you will require to purchase the factory expansion to Up and Run the full instrument. 20 HQ Instrument presets with Low End SUB & 808 generator OSC, Dhol Generator, Filter and Reverb. Now just play real Dhol Instrument right inside your host DAW.
We recommend to try the FREE Player first. If your OS and DAW loads it, purchase the Factory Library to up and run the Instrument. 
FREE PLAYER / LITE VERSION
06/09/2021
12/05/2020
13/06/2018
15/08/2017
MAC & PC PURCHASE EXPANSION
After successful purchase any case if you are unable to Download file please do E-mail us or Contact us. Provide your Invoice and e-mail details. We will verify and Resend the File via Direct Download link.
Please note :
Acoustic Dhol 2 Free Player / Lite version (Windows setup) needs Serial no during installation. Serial number is included with the pack.
Free Player also known as Lite version is a full functional plugin (only 1 dhol instrument sound).
To unlock 20 Factory Dhol sounds purchase the Full Expansion.
Free Player VS Full Version
Lite Version a.k.a Free Player
RDGAudio has the sound and the approach that we immediately connected with, instant inspiration and unexpected gratification. We are incredibly happy that RDGAudio has come into our creative world.
Wow it's amazing!! RDGAudio's Cottage Piano is my new go-to plugin. Best Sounding Piano ever I got with very reasonable price. The are really best,they are making Lite versions as well for all their plugins.
Unbelievable !! Indian instruments as AU & VST plugins formats! O my god. I have got very good sounding Indian VST,Acoustic Dhol & Acoustic Dhaak sounds amazing. I love their products.