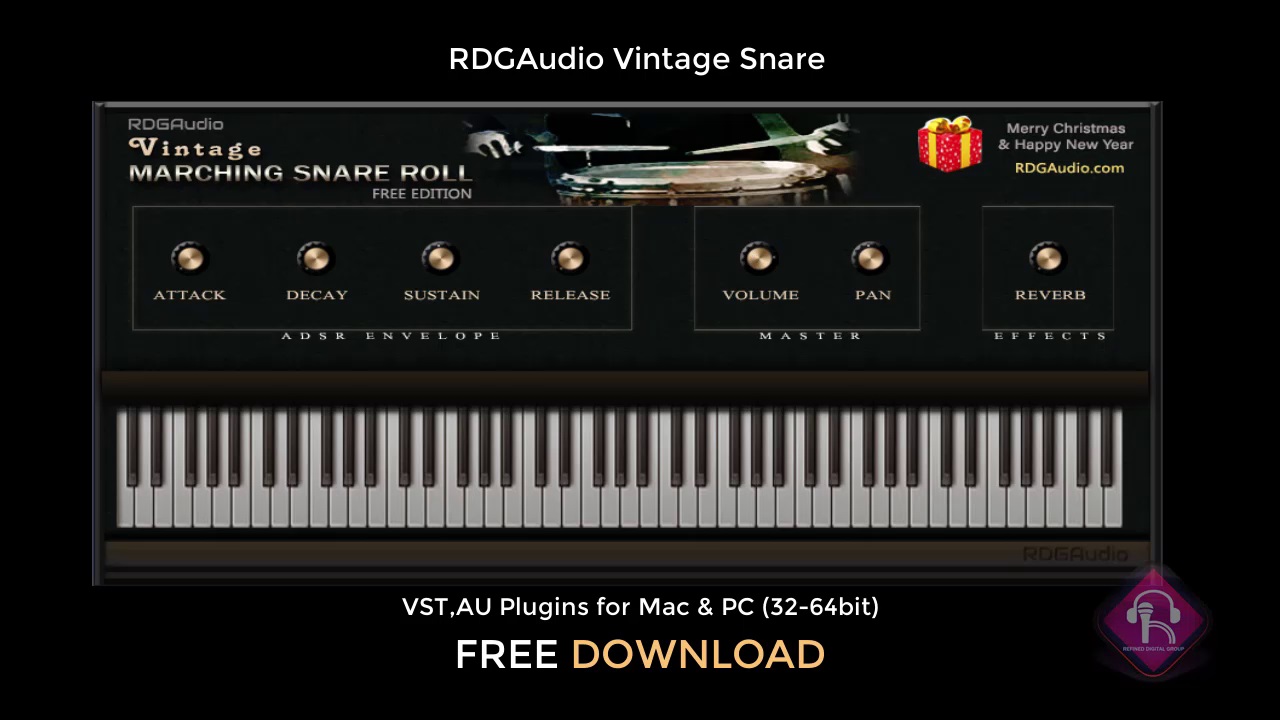 Vintage Snare Roll is our FREE gift to you.
15 Different types of Snare Loop patterns are embedded inside it. 
15 Different pattern also has different BPM. Different Tempos are mapped across the different Keys.
15 different Snare pattern loops
Different pattern has different BPM
Looped Marching Snare Sound (No One Shot)
Attack,Decay,Sustain,Release Parameters
AMP & Algorithmic Reverb unit
VST,VST3 (32-64 bit) for Windows and AU,MAC Vst plugins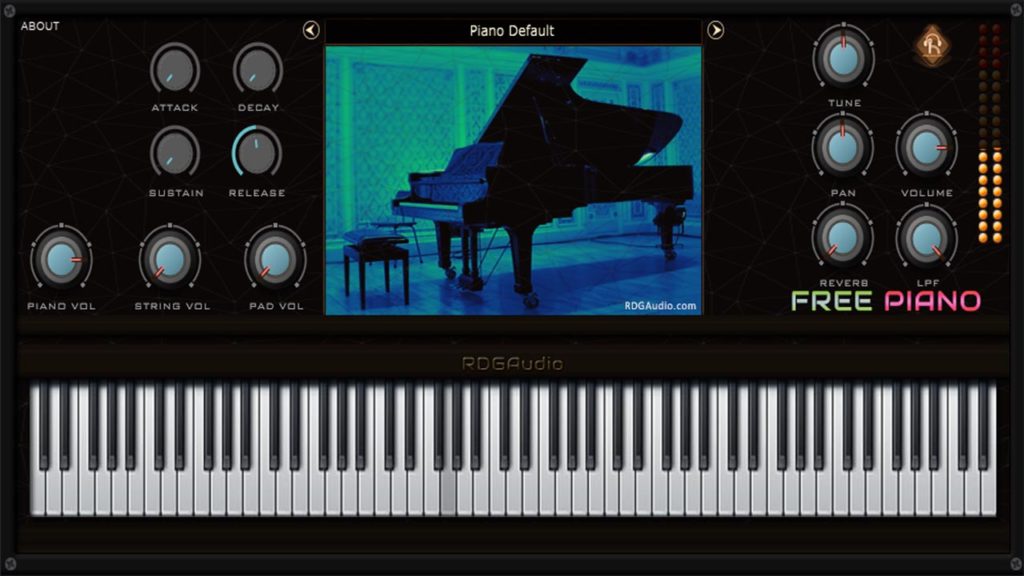 A brand new full featured FREE Piano made exclusively for you not for Money. 
Free Piano comes with Staccato and Auto Sustain Instruments presets. 3 layers of Sounds Piano+ Strings+Pad with Gain controllers. Velocity sensitive and Round Robing Sampling. The Piano has been recorded with 4 Mic pos.
ADSR,Low Pass Filter,Tuning,Reverb,Amp and Level Meter.
How to Install Free Player and FREE Expansions
First Download the FREE Player AU,Mac VST3 or VST-VST3 for Windows. 
Extract it and put the entire folder to your Audio Plugins directory, so that your DAW can find it.
e.g. C:\Program Files\VstPlugins
or C:\Program Files\Common Files\VST3\RDGAudio\
Same for make just put the component file to your Audio plugins directory.
Installing the expansion is very easy. First download it from here (Staccato and Sustain)>extract it and put them inside Free Piano.instruments folder.
For Mac paste it..
…\Contents\Resources
Download FREE Player & Expansions
Vintage Simply String 2 is 100 % free Sample based multi platform synthesizer plugins from RDGAudio. It comes with VST and AU formats. Loads very fast, easy to use, ADSR and built in reverb fx mode. Sound sampled from vintage Moog synthesizer.
Now has two vintage string sounds
Added new tremolo string
Added audio level meter
GUI modified
Fixed instrument missing issue and crashing
100 % Free Sample based multi platform VST and AU Plugins
Very fast loading and easy to use
Built in Reverb FX
ADSR Envelopes
Sampled from Moog Synthesizer
Completely FREE!!
All major DAW Supported
Parameters can be automated inside any host
VST 32 bit ,64 bit, AU & Mac VST
Supported OS: Windows 32 or 64 bit
Windows 7,8,10
Latest Mac OS X
Graphics Card 1GB (2 GB recommended)
RAM 1 GB (2 GB recommended)
Intel or AMD CPU
ASIO driver and audio interface
WE HAVE REMOVED FREE LEGACY WIN 32bit VST FROM HERE
Now we are developing AU,Win & MAC VST3 64bits plugins.
RDGAudio has the sound and the approach that we immediately connected with, instant inspiration and unexpected gratification. We are incredibly happy that RDGAudio has come into our creative world.
Wow it's amazing!! RDGAudio's Cottage Piano is my new go-to plugin. Best Sounding Piano ever I got with very reasonable price. The are really best,they are making Lite versions as well for all their plugins.
Unbelievable !! Indian instruments as AU & VST plugins formats! O my god. I have got very good sounding Indian VST,Acoustic Dhol & Acoustic Dhaak sounds amazing. I love their products.