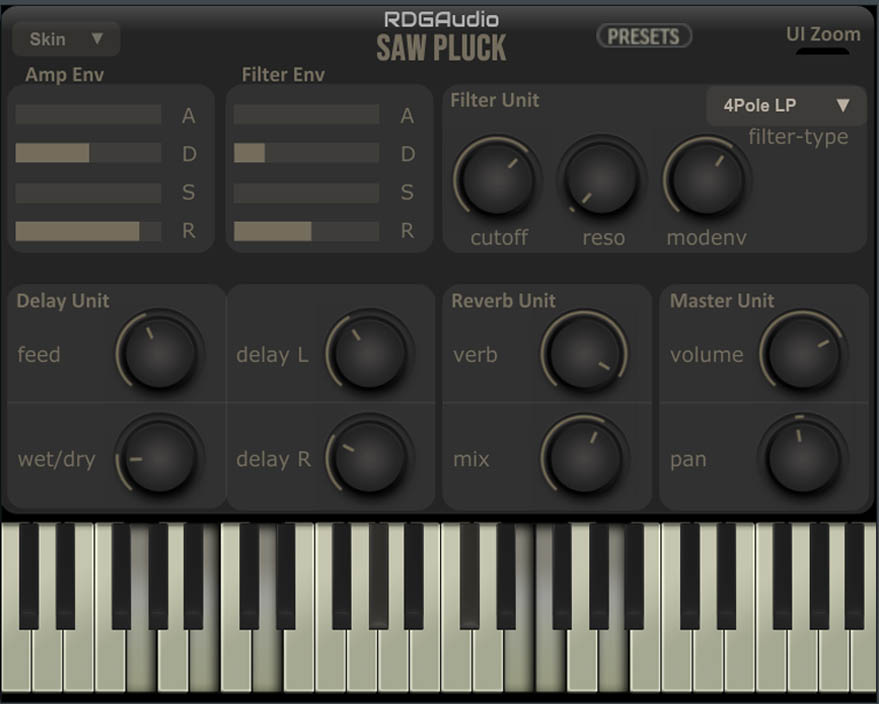 SawPluck is our first Analogue Emulated Trance Pluck Synthesizer for quick Trance Chords, Riffs and Melody creation. We have carefully crafted all the details of analogue circuitry and electronic components through advanced DSP and Mathematics. Coded through C++ Framework. 
Why did we make Analogue Virtual Emulation?
Although it's a Single Oscillator Synthesizer still it has a very warm sound what is usually missing in regular subtractive synthesizer. When you will play and tweak it's settings you will get pure rich analog Pluck sound inside your DAW.
Is It FREE for personal and commercial use?
Yes, It is currently giving away for FREE.
Do consider some "DONATION" if you like it. It will help us to make more products for FREE !!
HELP US TO MAKE MORE FREE PRODUCTS
SawPluck is FREE !!
Single SAW OSC yet rich and warm
15 different Filter types (Low Pass, High Pass, Notch, Hybrid, Analog etc..)
Amp Envelope and Filter Envelope (ADSR)
Filter Cutoff, Reso and Filter Mod
Built in Delay and Reverb Effects
.rdg/.RDG user presets 
Comes with Factory presets
User can create and save their own Presets as .rdg file format
32 voice Polyphony
Graphics Card 1GB (2 GB recommended)
RAM 1 GB (2 GB recommended)
Intel CPU
ASIO driver and audio interface
Windows VST3 64 bit
Mac VST3
Windows 8,10 (64bit)
Q: Where to put vst3 files?
Ans : C:\Program Files\Common Files\VST3\RDGAudio
Q: Where to put user preset files (.rdg files)?
C:\Users\Username\AppData\Roaming\RDGAudio\SawPluck\User Presets\Factory
For Mac : 
….\Library\Audio\Plug-Ins\Components
….\Library\Audio\Plug-Ins\VST3
Watch the installation guide.
RDGAudio has the sound and the approach that we immediately connected with, instant inspiration and unexpected gratification. We are incredibly happy that RDGAudio has come into our creative world.
Wow it's amazing!! RDGAudio's Cottage Piano is my new go-to plugin. Best Sounding Piano ever I got with very reasonable price. The are really best,they are making Lite versions as well for all their plugins.
Unbelievable !! Indian instruments as AU & VST plugins formats! O my god. I have got very good sounding Indian VST,Acoustic Dhol & Acoustic Dhaak sounds amazing. I love their products.