Churail Horror VPS Avenger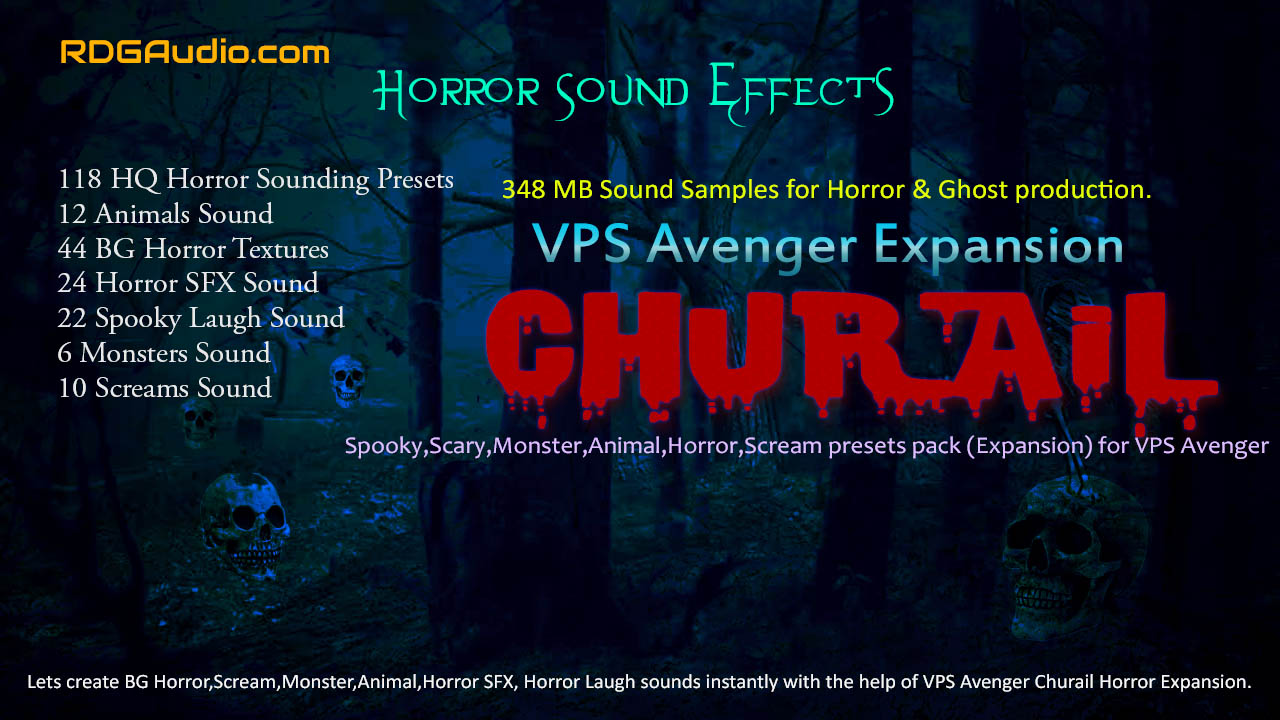 348 MB Sound Samples for Horror & Ghost production.
For the First time ever Horror,Spooky,Scary sounds are inside VPS Avenger.
Churail Horror VPS Avenger is a sample based preset bank containing 118 Horror samples exclusively made for Vengeance Avenger.VPS Avenger. It has been created using our Foley Sound Library. All presets have been designed by our sound designers and professional music producers. Lets create BG Horror,Scream,Monster,Animal,Horror SFX, Horror Laugh sounds instantly with the help of VPS Avenger Churail Horror Expansion.
118 HQ Horror Sound Effect Presets for Vengeance Producer Suite [VPS] Avenger is here! The most versatile and best sounding Spooky,Scary,Monster,Animal,Horror,Scream presets pack you will ever have for the best Horror Movie,TV Shows or Short Film productions.
Please use Adblock or Popup block plugins in your Firefox/Chrome etc browser to bypass annoying Ads from Mediafire. RDGAudio does not collect revenue from Mediafire or by showing Ads.
Watch the Demo
Walk through
Presets Demo
Watch the Demo
Walk through
Presets Demo
118 HQ Horror Sounding Presets
12 Animals Sound
44 BG Horror Textures
24 Horror SFX Sound
22 Spooky Laugh Sound
6 Monsters Sound
10 Screams Sound
Vengeance Producer Suite [VPS] Avenger 1.2.2 required.
Latest 1.5.x version might give errors.

1. Extract all files
2. Open Vengeance Proucer Suite Avenger then
Go to –> SYS Tab > Content > Import Content then
locate "Churail.avengercontent"
Done !!
Enjoy
RDGAudio has the sound and the approach that we immediately connected with, instant inspiration and unexpected gratification. We are incredibly happy that RDGAudio has come into our creative world.
Wow it's amazing!! RDGAudio's Cottage Piano is my new go-to plugin. Best Sounding Piano ever I got with very reasonable price. The are really best,they are making Lite versions as well for all their plugins.
Unbelievable !! Indian instruments as AU & VST plugins formats! O my god. I have got very good sounding Indian VST,Acoustic Dhol & Acoustic Dhaak sounds amazing. I love their products.