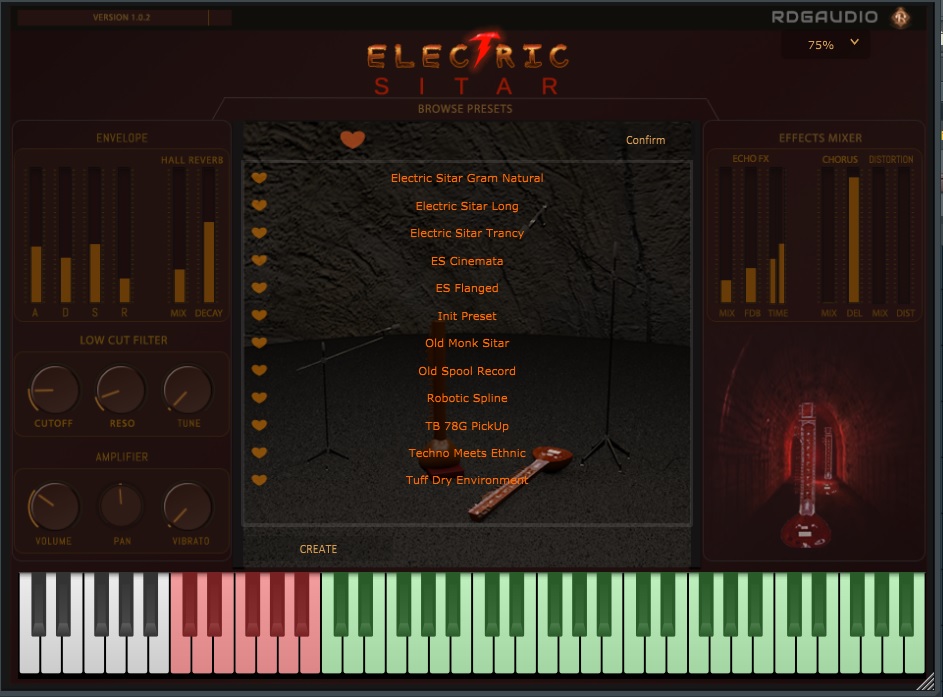 Electric Sitar is a sample based  Instruments. It has been sampled from Indian real acoustic Sitar Instruments. Sampled with 2+2 Mics Position with dynamic Round Robin and articulation. We have captured detailed sounds through DSP and  magnetic pick up coil. It is velocity sensitive instrument with built in Round Robin. It is available as Win64 bit VST3 & AU for Mac formats. It has Main Mic String Sound and Jhankar (Ambiance). Key ranges are highlighted with Colors. It has built in Filter, Reverb, Echo (Delay) .Chorus, Distortion effects. It comes with Factory Library content. Now user can create and save their own presets as (.rdg) files.  Now just play Electric Sitar right inside your host DAW.
Completely re-written
Echo/Delay with Feed back ,Time & Wet Knob
User Customizable Presets (.rdg files)
Key Ranges are Filled with Colors.
Full Automation supported with in DAW
Resizable UI
FEATURES
Sampled from Real Sitar Instrument
User Can save .rdg Presets
4 Effects (Chorus, Echo, Distortion and Reverb)
Captured with Main Mic and Room Mics
Full Automation supported with in DAW
Tuning (Assigned Pitch bend)
New Resizable UI
Vibrato
Key ranges are colored
Jhankar and Main String
New drop down Presets Browser
Round Robin and Velocity sensitive
ADSR with Volume & Pan control.
All major DAWs supported (That support VST3 & AU)
Tested on Mojave and Catalina Mac OS-X
SYSTEM REQ
After successful purchase any case if you are unable to Download file please do E-mail us or Contact us. Provide your Invoice and e-mail details. We will verify and Resend the File via Direct Download link.
RDGAudio has the sound and the approach that we immediately connected with, instant inspiration and unexpected gratification. We are incredibly happy that RDGAudio has come into our creative world.
Wow it's amazing!! RDGAudio's Cottage Piano is my new go-to plugin. Best Sounding Piano ever I got with very reasonable price. The are really best,they are making Lite versions as well for all their plugins.
Unbelievable !! Indian instruments as AU & VST plugins formats! O my god. I have got very good sounding Indian VST,Acoustic Dhol & Acoustic Dhaak sounds amazing. I love their products.