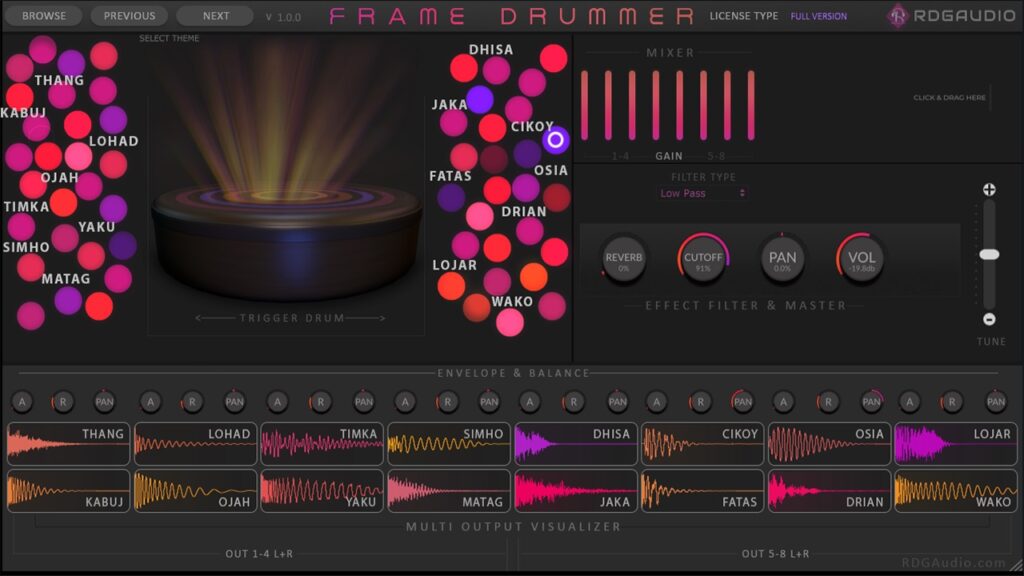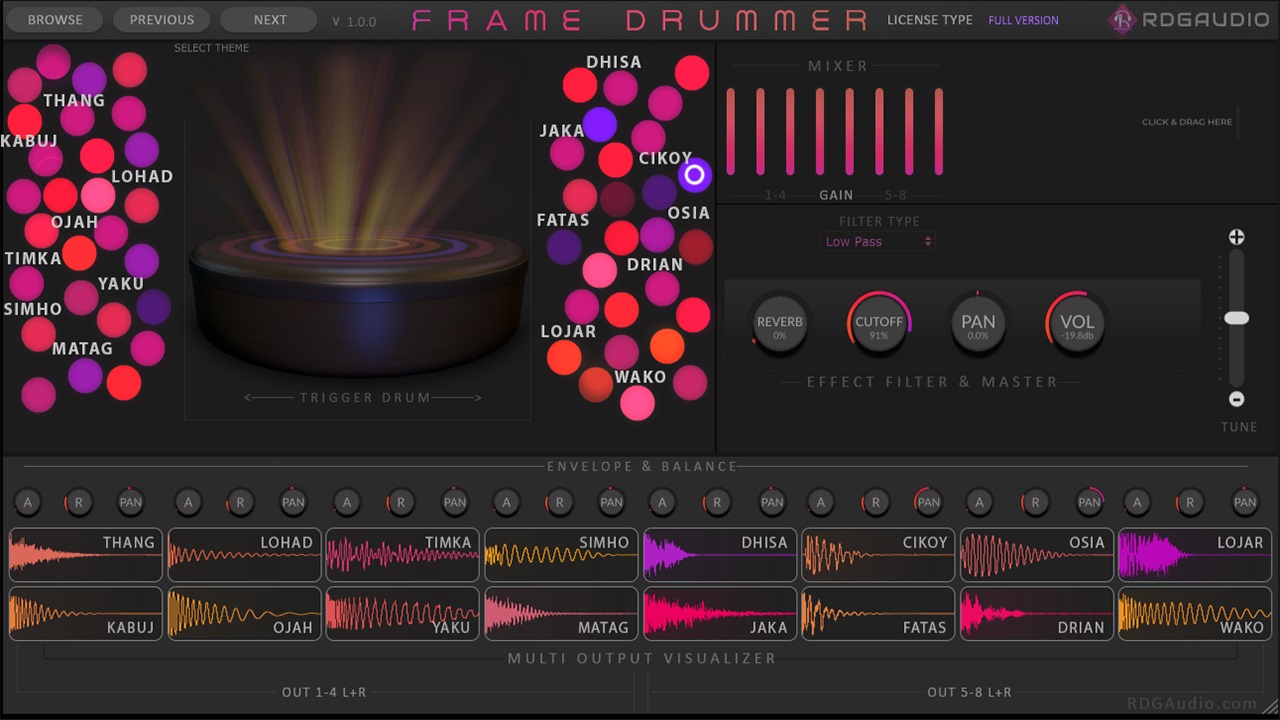 Frame Drummer is a sample based Drum Instrument. It has been sampled from Asian and many types of real Frame Drums. Sampled with 2 Mic Positions. All captured sound has been processed by our Sound Engineers at Berlin Studio.Frame Drummer is velocity sensitive instrument with built in Round Robin. Frame Drummer is available in Windows 64-bit VST3, AU and Mac VST3 plugins formats.
Modern and Unique looking VU Meter for Drum Playing and Drum Triggers. Comes with 3 Skins Presets. Browse more expansions when we develop additional expansions for Frame Drummer. Frame Drummer comes with free Player but you need to purchase the Factory Expansion to Up and Run the full instrument. Over 400 Samples with different articulations and sound signatures. You can stack/layer 7 more sounds with the Instrument. Comes with High Pass and Low Pass Filters with Volume, Pan and Tune controllers. Multi Out Visualiser with Attack, Release, Gain, Pan Controllers. Enjoy playing real Frame Drum instrument right inside your DAW.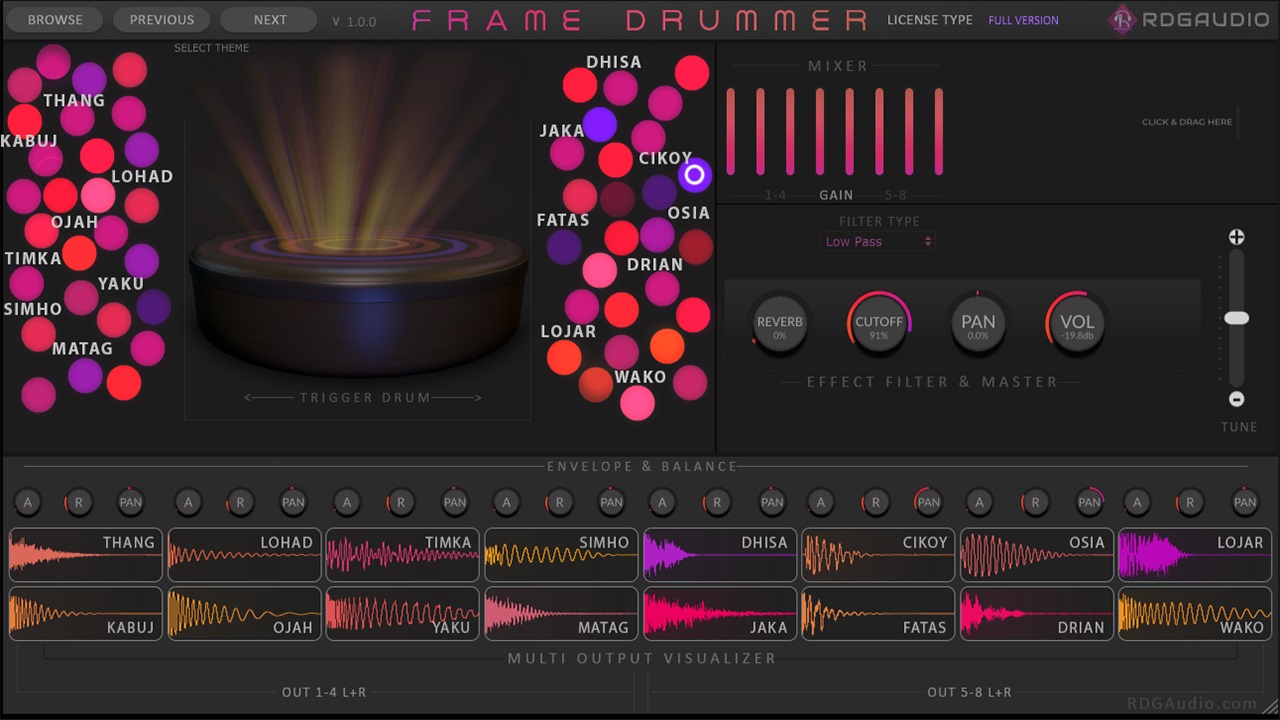 DEFAULT SKIN
Frame Drummer Comes with 3 Skins. This is the Default skin.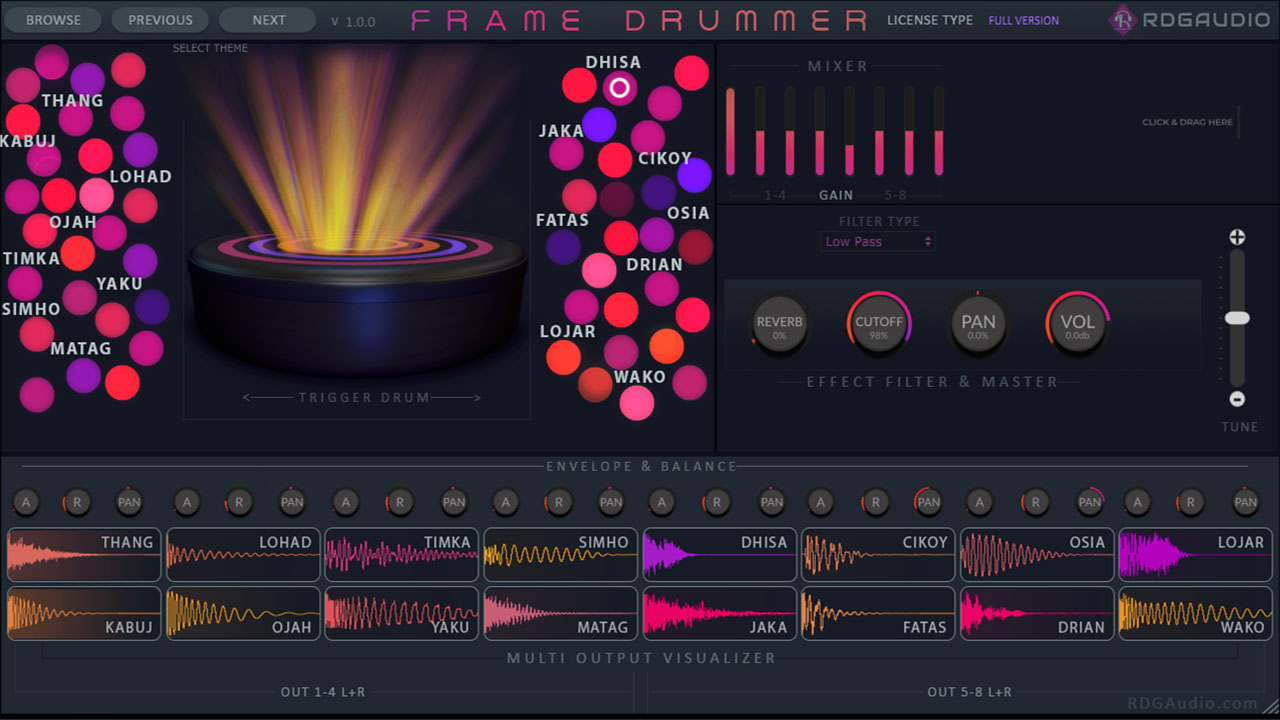 DARK BLUE SKIN
Frame Drummer Comes with 3 Skins. This is the Dark Blue skin.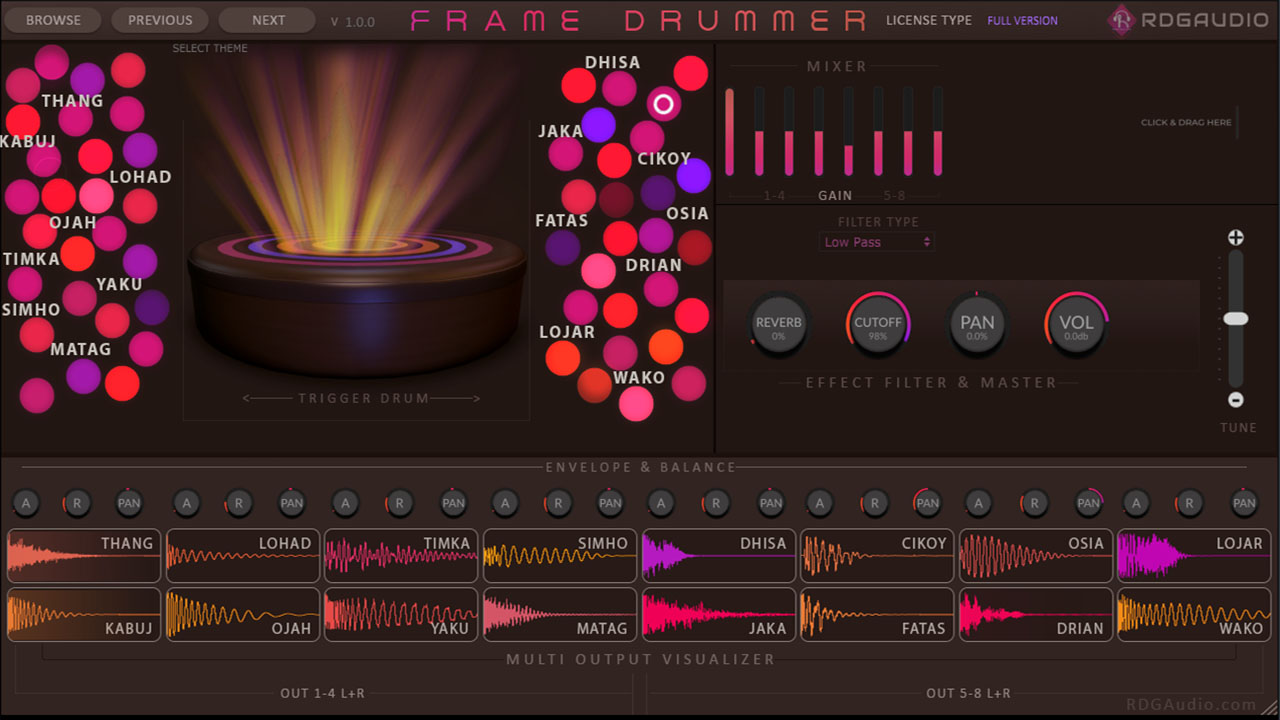 COPPER SKIN
Frame Drummer Comes with 3 Skins. This is the Copper skin.
AUDIO DEMO 1
AUDIO DEMO 2
AUDIO DEMO 3
AUDIO DEMO 1
AUDIO DEMO 2
AUDIO DEMO 3
PURCHASE FACTORY EXPANSION
We recommend to try the FREE Player first. If your OS and DAW loads it, purchase the Factory Library to up and run the Instrument. Bare in mind, without Factory Library it doesn't produce any sound. 
SYSTEM REQ
Graphics Card 1GB (2 GB recommended).
RAM 1 GB (2 GB recommended).
Intel or AMD CPU.
ASIO driver and audio interface.
Windows 8,10 (64-bit).
Up to Mojave Mac OS X (Compiled in Mojave Mac OS).
FEATURES
FAQ
RDGAudio has the sound and the approach that we immediately connected with, instant inspiration and unexpected gratification. We are incredibly happy that RDGAudio has come into our creative world.
Wow it's amazing!! RDGAudio's Cottage Piano is my new go-to plugin. Best Sounding Piano ever I got with very reasonable price. The are really best,they are making Lite versions as well for all their plugins.
Unbelievable !! Indian instruments as AU & VST plugins formats! O my god. I have got very good sounding Indian VST,Acoustic Dhol & Acoustic Dhaak sounds amazing. I love their products.