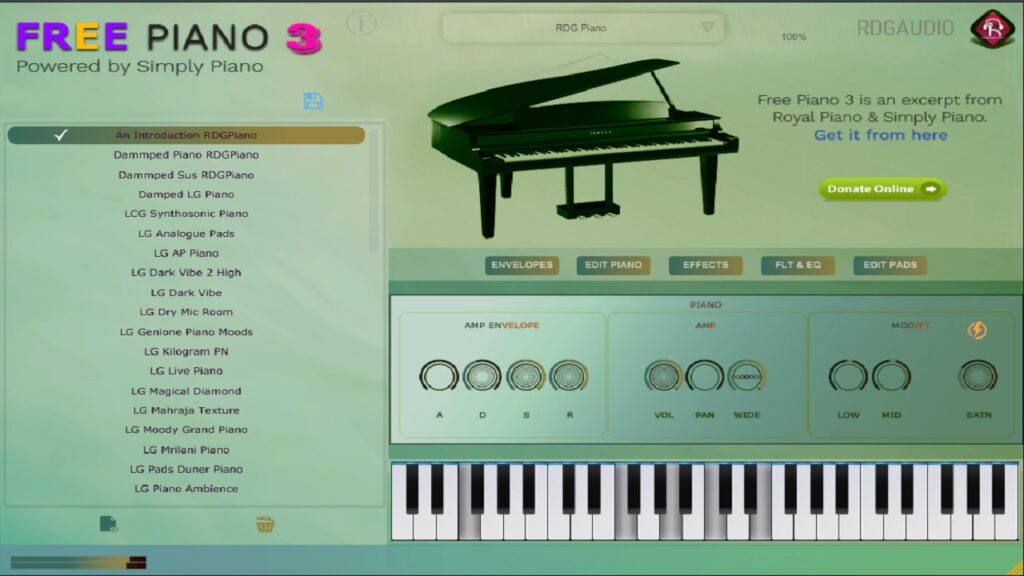 A completely New Virtual Piano String Hybrid plugins specially designed for music producers. Unique Sound signature and authentic effects give you the freedom to enhance your creativity to the next level. Our plugin  comes with 3 Piano Models crafted carefully with studio grade equipment and trained professionals. Not only Piano you can use it as a string/pads Plugins too. It has 5 Pads/String sounds. Multi tab interface, Hammer Noise Sound and over 50 factory presets. You can save and modification as your own presets (.rdg file format). it is velocity sensitive with AI Powered Dynamic Round Robin and over 400 Samples included. So, lets start and push your creativity to the next level with Free Piano 3 powered by Simply-Piano.
Support Us to make more Free Plugins.
FEATURES
2 Sounds in One Plugins (Piano +Pads/Strings)
5 different pads/strings
Over 50 Factory presets
Hammer Noise Sound
Multi Tabbed Scalable GUI
Sampled from 3 different Piano with different mic positions
AI powered Physical model with Dynamic Round Robin
Velocity Sensitive
Powered by Simply Piano
Built in Effects section. Delay, Reverb, EQ, Stereo Widener, Saturation, Filter, and Compressor
ADSR with Amp and Filter Section
User can Save Presets (.rdg Files)
Fast and easy to load/play
Windows VST3 and Intel Mac AU Compatible
SYSTEM REQ
FAQ
RDGAudio has the sound and the approach that we immediately connected with, instant inspiration and unexpected gratification. We are incredibly happy that RDGAudio has come into our creative world.
Wow it's amazing!! RDGAudio's Cottage Piano is my new go-to plugin. Best Sounding Piano ever I got with very reasonable price. The are really best,they are making Lite versions as well for all their plugins.
Unbelievable !! Indian instruments as AU & VST plugins formats! O my god. I have got very good sounding Indian VST,Acoustic Dhol & Acoustic Dhaak sounds amazing. I love their products.