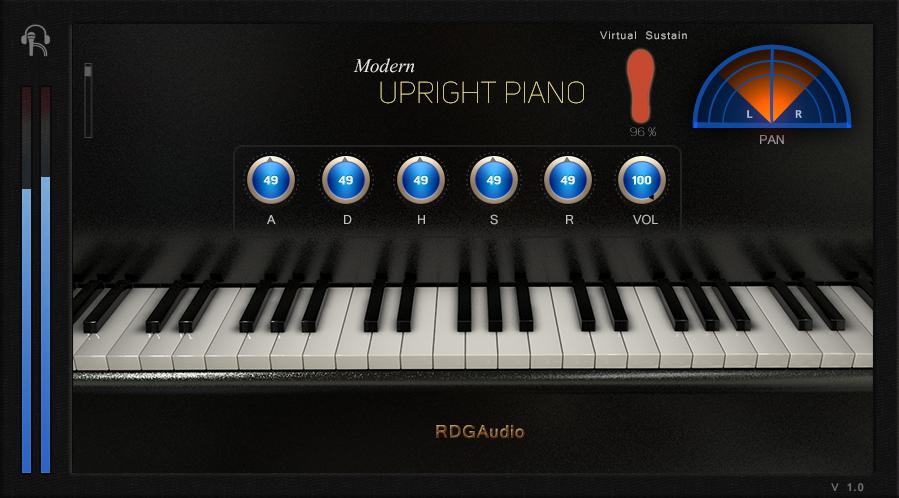 We have created very detailed yet very fast and easy loading sample based Upright Piano plugins for your Digital Audio Workstation (DAW). Modern Upright is a new generation Piano software plugins developed by RDGAudio team. Now you can play your favorite songs right from your PC with just a Midi keyboard. Comes with modern UI. From Rock,Pop,House to modern EDM and Trance, Modern upright piano helps you to make better music in less time.
AUDIO DEMO 1
AUDIO DEMO 2
AUDIO DEMO 1
AUDIO DEMO 2
MAC & PC PURCHASE EXPANSION
We recommend to try the FREE Player first. If your OS and DAW loads it, purchase the Factory Library to up and run the Instrument. Bare in mind, without Factory Library it doesn't produce any sound. 
Chromatic Sampling with 4 mic positions
ADHSR controllers
Max Voice Polyphony : 48
Velocity sensitive : YES (4 layers of velocity)
Round Robin Sampling : YES (3 RR samples)
Virtual Sustain Pedal (rotary type)
Supports Hardware Sustain pedal
Panaromic Pan Rotary Knob
Volume Knob
2 x Level Meters
Modern UI with Info Slider (at top left)
Windows 7,8 10 or latest Mac OS
Approx 400 MB disk space (Each Format)
Latest Intel or AMD CPU
2 GB RAM (4 GB recommended)
1 GB Video RAM (2 GB recommended)
Supports all major DAW
Midi keyboard & Sustain pedal
ASIO driver
Modern Upright Piano Lite has some limitations.
No Round Robin (RR) Sampling
Always Auto Sustain.  No Staccato
Attack,Decay,Hold,Sustain,Release will not work
Virtual Sustain Pedal Knob will not work
Purchase the full version to get full features.
RDGAudio has the sound and the approach that we immediately connected with, instant inspiration and unexpected gratification. We are incredibly happy that RDGAudio has come into our creative world.
Wow it's amazing!! RDGAudio's Cottage Piano is my new go-to plugin. Best Sounding Piano ever I got with very reasonable price. The are really best,they are making Lite versions as well for all their plugins.
Unbelievable !! Indian instruments as AU & VST plugins formats! O my god. I have got very good sounding Indian VST,Acoustic Dhol & Acoustic Dhaak sounds amazing. I love their products.