What is New in version 2.0
New Browse Expansion
New Browse expansion feature will help you to load quickly your Downloaded Real Sitar Expansions.
Change log
Added Velocity Curve
Attack,Release are now linear
Removed DC Offset in Harmony Srtings
New Satcked .wav samples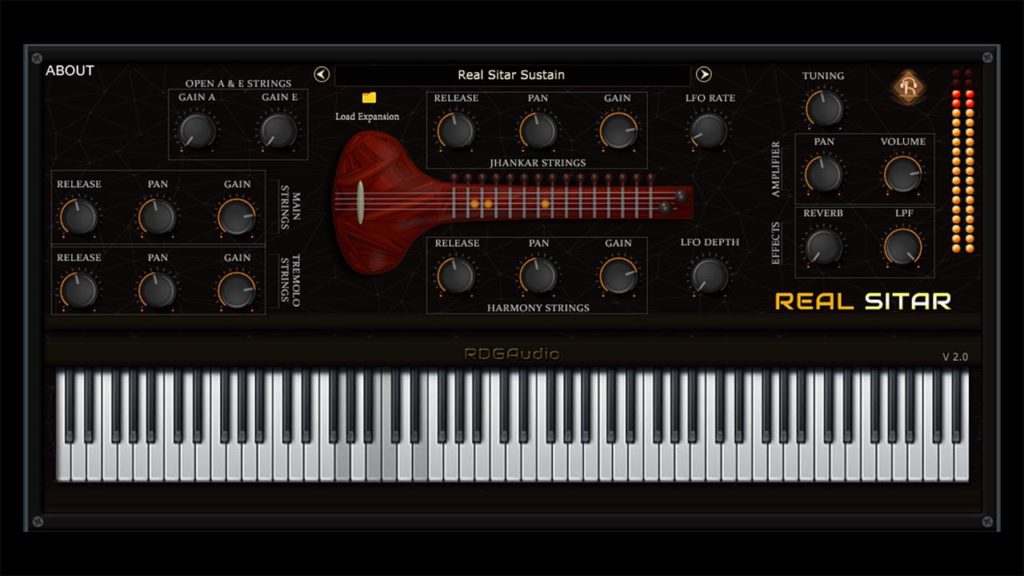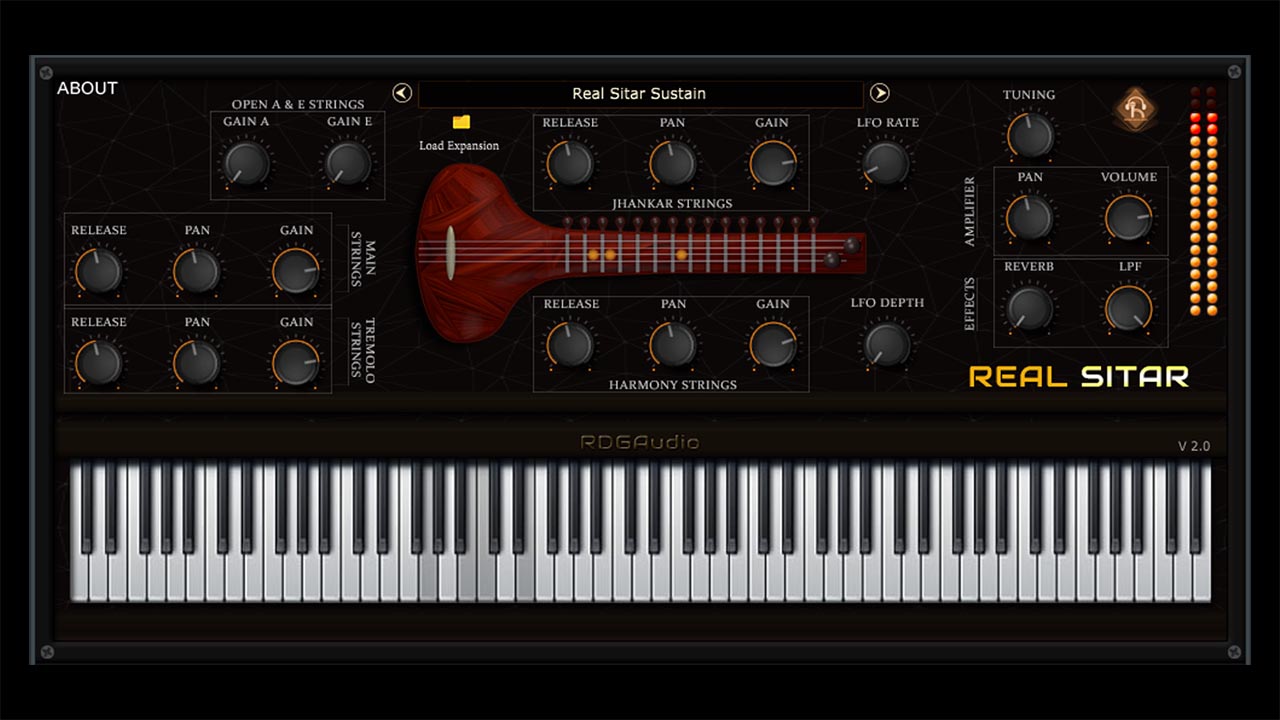 Real Sitar is a sample based  Instruments. It has been sampled from Asian and many types of real Sitar Instruments. Sampled with 4 Mic Position.It is velocity sensitive instrument with built in Round Robin Presets. It comes with Win 32-64 bit VST ,VST3,AU and Mac VST plugins. Real Sitar comes with FREE Player, however you can purchase the factory expansion to Up and Run the full instrument. Now just play real Sitar right inside your host DAW.
EXPANSIONS
Real Sitar is  a FREE player. It can load only Real Sitar Expansions. Factory Presets, all have been sampled from real Sitars. All expansions have Velocity sensitivity. 
SAMPLING & SOUND DESIGN
Unique Presets all have been sampled from real Sitar.Sampled and Designed by our talented professionals and sound designers. Sounds are created from real Sitar. To inspire you instantly, we have treated with legendary outboard effects, eq, compression and saturation. Just Load & Play.
FEATURES
New Browse Expansion
Real Sitar Player is FREE !!
Factory Expansion Presets (purchase separately)
Sampled from real Sitar
Different Strings are mapped
Jhankar,Tremolo,Harmony & Main Strings
Stack upto 5 layers string
Layers have Gain and Pan pots
New VST3 formats
Tunning
New Low pass Filter
New Presets Browser
Round Robin and Velocity sensitive
ADSR with Volume & Pan control
Algorithmic reverb
Level meter
All major DAWs supported
VST3,AU,Win 32-64bit & Mac VST
SYSTEM REQUIREMENT
Graphics Card 1GB (2 GB recommended)
RAM 1 GB (2 GB recommended)
Intel or AMD CPU
ASIO driver and audio interface
VST3,VST 32 bit,64 bit, AU & Mac VST
Windows 7,8,10 (64bit)
Latest Mac OS X
FAQ
Q: Can I load other expansion pack with in it?
Ans: No you can load only Real Sitar Expansion
Q: Where to put Expansion Instruments files?
Ans: Put them
C:\Program Files\VstPlugins\RDGAudio\Real Sitar\Real Sitar.instruments
or ….\Real Sitar.instruments
For Mac
…\Contents\Resources
Purchase the Factory Expansion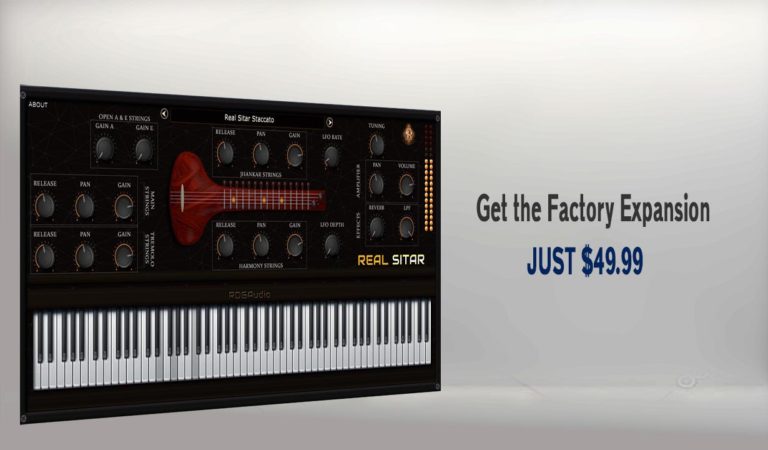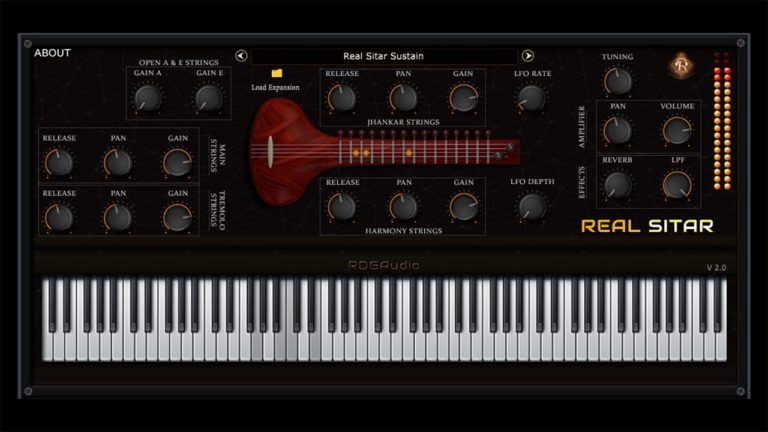 Please use Adblock or Popup block plugins in your Firefox/Chrome etc browser to bypass annoying Ads from Mediafire. RDGAudio does not collect revenue from Mediafire or by showing Ads.
RDGAudio has the sound and the approach that we immediately connected with, instant inspiration and unexpected gratification. We are incredibly happy that RDGAudio has come into our creative world.
Wow it's amazing!! RDGAudio's Cottage Piano is my new go-to plugin. Best Sounding Piano ever I got with very reasonable price. The are really best,they are making Lite versions as well for all their plugins.
Unbelievable !! Indian instruments as AU & VST plugins formats! O my god. I have got very good sounding Indian VST,Acoustic Dhol & Acoustic Dhaak sounds amazing. I love their products.